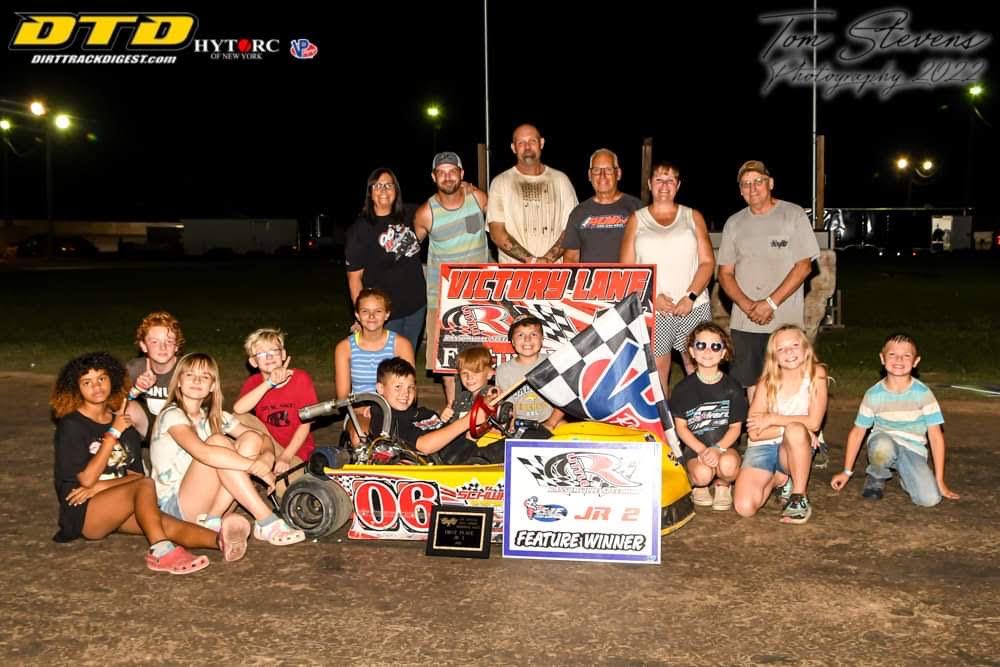 8/4/2022
Ransomville Speedway
---
Pendykoski, Seefeldt, Hanel, Ruggiero, Schrader, Massar, Strassburg, and Shoop Win on Paul Moden Memorial Night at the Little R
RANSOMVILLE, NY (August 4, 2022) The Paul Moden Memorial Night had nearly 90 go-karts in the pits for the SANY New York/Burris Racing go-karts at the Ransomville Speedway Thursday night. Nigel Pendykoski made his first trip this season a successful one as he won the Mike Barry Motors Senior Heavy feature. Aiden Seefeldt won his first Fisher's Auto Repair Senior Lites feature. Mason Hanel won his fourth Frontier Auto Wrecking Junior 3 feature event. Thomas Ruggiero won his fourth SJE Shocks Junior 2 feature event. Jake Schrader won his second Slack Kart Junior 1 feature. John Massar (5th), Jason Strassburg (1st), and Riley Shoop(1st) picked up the victories in the Just Signs & Designs Novice division.
It was the first time since the mid-2000s that a member of the Shoop family found victory lane at Ransomville. Nigel Pendykoski's Senior Heavy victory was his first since 2019.
Go-karts will be back in action on Thursday, August 11 featuring the full SANY New York/Burris Racing go-kart program. Gates will open at 5 pm and karts will be on the track at 6:45 pm for warmups and racing will get underway shortly after 7 pm.
UNOFFICIAL RACE RESULTS: GO KART WEEK 12 – Paul Moden Memorial Night
Mike Barry Motors Senior Heavy: NIGEL PENDYKOSKI, Colin Spatorico, Eric Veihdeffer, Gary Gow, Matt Veihdeffer, Colby Boyer, Jayme Stone, Brayden Bills, Mike Seefeldt, Austin Gordon, Timothy Wnek, Christian Soliday, Anthony Pollow, Steve Veihdeffer, Mike Csizmadia, Zach Moden, Roger Wirth Jr, David Henning
Qualifying Heats: Colby Boyer, Eric Veihdeffer, Nigel Pendykoski
Fisher's Auto Repair Senior Lites: AIDEN SEEFELDT, Riley Bloomingdale, Brayden Bills, Ben Walsh, Eric Veihdeffer, Anthony Pollow, Austin Gordon, Zach Moden, Chase Richner, Jamie Brosius, Brooke Moden, Colby Boyer, Lucas Henry, Clayton Cain, Jayme Stone
Qualifying Heats: Aiden Seefeldt, Brayden Bills
Frontier Auto Wrecking Junior 3: MASON HANEL, Aidan McCollister, Jacob Schulz, Jocelyn Just, Wayne Swinson, Abigail Fisher, Jenna Barnard, Anthony DiPaolo, Sal Paonessa, Gavin Gradl, Alexander Lee, Dylan Clemons, Jayden Tomaino
Qualifying Heats: Mason Hanel, Aidan McCollister
SJE Shocks Junior 2: THOMAS RUGGIERO, Gracie Boyer, Trevor Barnard, Matthew Garvin, Jacalyn Nettleton, Tyler Moden, Ethan Hammer, Peyton Chaffee, Amelia Westlake, Brooklyn Chaffee
Qualifying Heats: Ethan Hammer, Amelia Westlake
Slack Karts Junior 1: JAKE SCHRADER, Giovanni Paonessa, Gabriel Rodriguez, Jenson Cook, Joe Rodosky, Jayme Just, James Strassburg, Brandon Guyette, Aideen Rusnock, Raelyn Just, Tessa Pendykoski, Rocco Batt, Laina Stewart, Jax Cotriss, Rhys Porter, Cole Schumacher, Jackson Bonesky, Lucas Newton, Sophia Harris
Qualifying Heats: Jake Schrader, Lucas Newton, Giovanni Paonessa
Just Signs & Designs Novice #1: JOHN MASSAR, Rowen Ostapiuk, Luke Holmes, Margaret McGruder, Vincent Ruggiero
Just Signs & Designs Novice #2: JASON STRASSBURG, Garrett Nettleton, Mason Sharts, Bentley Greene, Lauren Strassburg
Just Signs & Designs Novice #3: RILEY SHOOP, Jack Reid, Lucas Rodebaugh, Zachary Schrader, Emily Harris
Qualifying Heats: John Massar, Jason Strassburg, Riley Shoop
---
Article Credit: Steven Petty
Submitted By: Steven Petty
Back to News