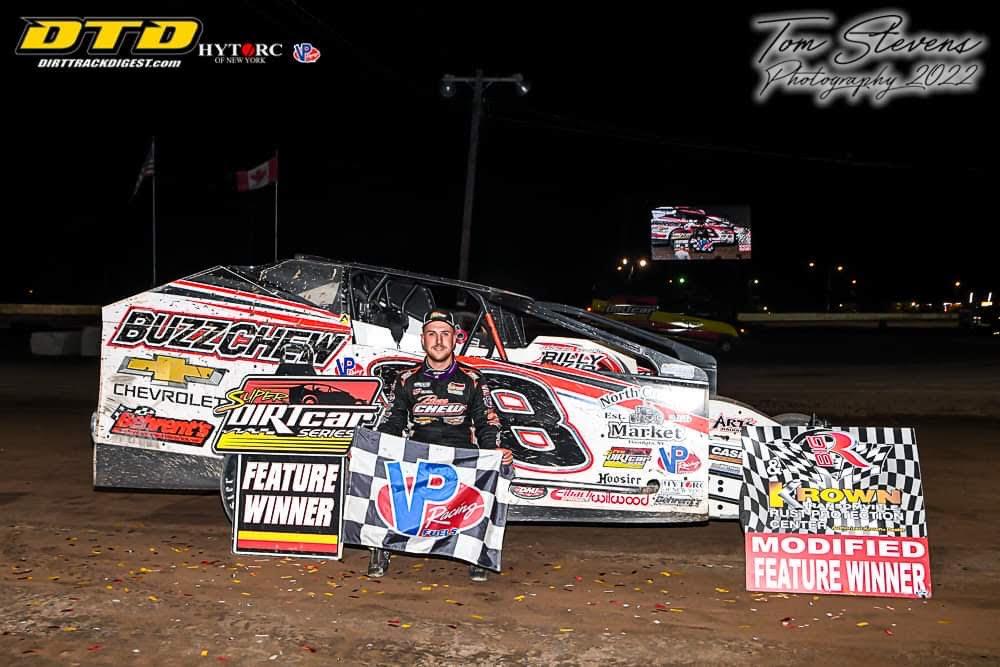 8/25/2022
Ransomville Speedway
---
No Place Like Home: Mat Williamson Wins Summer Nationals, Brett Senek Wins Mike Bonesky Memorial
RANSOMVILLE, NY (August 25, 2022) It took two days to run, but two familiar faces visited victory lane after winning two marquee events on the Ransomville Speedway schedule. After the 75-lap main event, "Money Mat" Mat Williamson won the 37th Summer Nationals for the Super DIRTcar Series Big-Block Modifieds Thursday night. Ransomville, NY's Brett Senek was victorious in the 2nd Mike Bonesky Memorial for the Investor's Service Sportsman, a Western and Central Region combined race for the DIRTcar Sportsman. Stirling Lubricants, Wendt's Propane, National Maintenance Contracting Corp., Evergreen Lawn & Tree Service, Lawns Unlimited, and Hebeler Sales & Service presented the racing action.
Mat Williamson and Peter Britten were on the front row for the 37th Summer Nationals for the Super DIRTcar Series, with Williamson showing the way. Billy Decker would battle with Peter Britten for second, but Britten would pull away early on. Matt Sheppard would move into fourth on the opening circuit, as the battle was on for sixth place between Gary Lindberg and Stewart Friesen. Decker would close in on Britten for second place on lap nine, but Britten would hold him off. Marcus Dinkins would spin in turn two to bring out the race's first caution on lap 12. Sheppard would take over third on the restart, challenging both Britten for second and holding off Decker's challenges for third place. Darren Smith brought out the caution on lap 22. Stewart Friesen would pass Gary Lindberg for fifth place on the lap 25 restart and then would go after Matt Sheppard for fourth place, as Decker regained third from Sheppard. Williamson would be able to pull away from the field and would hit lap traffic at the race's halfway mark. Sheppard would go after Decker again for third place on lap 41, but Decker would keep the third position for the time being. JF Corriveau brought out the caution on lap 45. Gary Lindberg would take over fourth place on the restart, with Erick Rudolph racing behind him. Rudolph started 12th in the event and worked his way into the top five with 25 laps remaining. Marcus Dinkins would bring out the caution once again on lap 60, ending a nearly 20-lap green flag run. Gary Lindberg would move into third place on lap 61, as Williamson pulled away from the field. Williamson pulled away to earn his first points-paying Super DIRTcar Series win of 2022, and first at Ransomville. In total, it was Williamson's sixth win at Ransomville in 2022.
Nelson Mason and Brett Senek brought the DIRTcar Sportsman to the green flag for the 2nd Mike Bonesky Memorial, with Senek showing the way. Zach Sobotka would quickly work his way into the top five and would go after Derek Wagner for third place. Cody McPherson would race with Noah Walker for a top-five position, with McPherson moving into fifth place on lap nine. Derek Wagner spun, in turn, one to bring out the caution on lap ten, resulting in a single-file restart. Senek, Mason, and Sobotka would pull away from the field, as Sobotka would take over second on lap 12. Noah Walker would reclaim fourth as McPherson bobbled on the restart. McPherson would regroup and take over fourth after passing Walker on lap 18. Senek, Sobotka, and McPherson would battle for the lead, as McPherson would take over second place with 10 laps remaining. Senek would hold off McPherson and Sobotka to pick up the win, his third Ransomville win of 2022. Cameron Tuttle won the Hoosier Tire certificate.
The next event on the Ransomville Speedway schedule takes place on Saturday, August 27, as the Versus Monster Trucks will take center stage! Gates will open at 5 pm and the show will begin at 7 pm. Tickets are still available for the Monster Truck show by logging on to www.ransomvillespeedway.com
Racing action returns on September 2 as Triple T Towing presents the Labor Day Weekend Demo Derby! Niagara Frontier Publications presents a full card of racing, featuring the final points night of the season for the Krown Undercoating Modifieds, Investor's Service Sportsman, and Kevin's Carpet Cleaning Novice Sportsman. Pit gates open at 5 pm, grandstands open at 6 pm, and racing get underway at 7:15 pm.
RACE RESULTS: 37th Summer Nationals/2nd Mike Bonesky Memorial Night
Super DIRTcar Series Big Block Modifieds: MAT WILLIAMSON, Peter Britten, Gary Lindberg, Matt Sheppard, Erick Rudolph, Billy Decker, Marc Johnson, Stewart Friesen, Adam Pierson, Chad Brachmann, Anthony Perrego, Pete Bicknell, Jimmy Phelps, Ryan Susice, Tim Sears Jr, Kevin Root, Max McLaughlin, Paul St. Sauveur, Allan Wills, Marcus Dinkins, JF Corriveau, Daniel Johnson, Darren Smith, Zachary Payne, Alex Payne, Jack Lehner
Failed to Qualify: CG Morey, Steve Lewis Jr, Rick Richner, Dave Flannigan Jr, Robbie Johnston, Tyler Willard, Garrison Krentz, Luke Carleton, Andrew Smith, Danny Johnson
Qualifying Heats: Stewart Friesen, Erick Rudolph, Mat Williamson, Chad Brachmann
Last Chance Showdowns: Pete Bicknell, JF Corriveau
Fast Time: Stewart Friesen (17.114sec.)
DIRTcar Sportsman: BRETT SENEK, Cody McPherson, Zach Sobotka, Nelson Mason, Dave DiPietro, Noah Walker, Cameron Tuttle, Dylan Duhow, Brett Martin, Justin McKay, Cliff Gregg, Jim Harbison, Dalton Martin, Derek Wagner, Jessica Kriegisch, Colby Adamczak, AJ Custodi, Randy Chrysler, Ricky Thompson, Brian Harris, Billy Bleich Jr, Mike Fowler, Bill Gill, Daryl Nutting, Tyler Corcoran, Andrew Buff, Chris Mackey, Justin Sharp, Jacob Bansmer, Taylor Vanderzanden, David Rogers, Ryan Barrett
Qualifying Heats: Brett Senek, Derek Wagner, Cody McPherson
---
Article Credit: Steven Petty
Submitted By: Steven Petty
Back to News