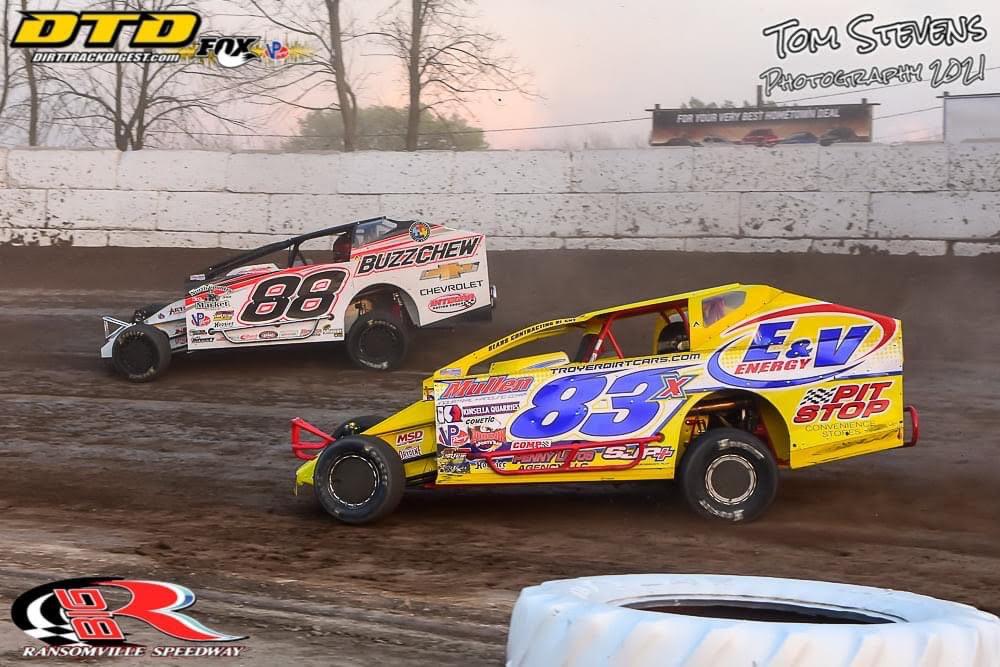 8/22/2022
Ransomville Speedway
---
Big Blocks and Monster Trucks Coming to Ransomville Speedway This Week
RANSOMVILLE, NY (August 22, 2022) The Super DIRTcar Series Big Block Modifieds will be making their 36th visit to the Ransomville Speedway Wednesday night for the 37th running of the Summer Nationals. The race will be 75-laps in distance and will pay $7,500 to win. The Investor's Service Sportsman will be joining the Big Blocks as they will be competing in the second annual Mike Bonesky Memorial for the Western and Central Region. The Bonesky family put together a lap sponsorship program that will bring in an additional $2,000 into the Sportsman purse. Presenting the program will be Stirling Lubricants, National Maintenance Contracting Corporation, Wendt's Propane, Lawns Unlimited, Evergreen Lawn and Tree Service, and Hebeler Sales & Service.
Fresh off his SummerFAST title, reigning Summer Nationals winner "Super" Matt Sheppard is bringing a two-race win streak on the Super DIRTcar Series into Ransomville. A two-time winner of the Summer Nationals, the eight-time Super DIRTcar Series champion is looking for his third win in the event since 2017. Jimmy Phelps, Max McLaughlin, Adam Pierson, Peter Britten, and more are all looking for their first win at Ransomville in the big race. Six-time race winner Stewart Friesen is expected to be in attendance in the race that was started by his late uncle Alex Friesen. Friesen's most recent win at the track where he called home to start his career came in 2018. The Ransomville Speedway regulars will be looking to defend home turf. Mat Williamson, Erick Rudolph, Ryan Susice, and Chad Brachmann, are just some of the regulars looking for the win. Rudolph has won the Summer Nationals back in 2013.
The Mike Bonesky Memorial for the Investors Service Sportsman is becoming a marquee event. The DIRTcar Western and Central Region's best drivers will converge on Ransomville for this event, paying $1500 to win plus lap money and other contingencies raised from the Bonesky family and supporters. Cam Tuttle will be looking to defend home turf and increase his lead in the Western Region USA points. Fresh off his fifth win of the season this past Friday night, Derek Wagner is looking for his second Western Region win at Ransomville, as he was victorious in the Chris Moore Memorial back in July. Dave Rogers is leading Tyler Corcoran by four points in the Central Region entering Wednesday night. The top Sportsman drivers from throughout the region are expected to be in attendance Wednesday night.
Stirling Lubricants Inc. is a leading manufacturer and supplier of different cutting oils, stamping oils, quench oils, and way oils. Established over 100 years ago, Stirling Lubricants have become a leader in the field of manufacturing automotive lubricating oils, industrial specialty oil, metal working oils, and more. For more information, log online to www.stirlinglubricants.com visit them at 1150 University Avenue in Rochester, NY, or give them a call during their office hours during the week from 8-4 Monday through Friday at (585) 461-8310.
Since 1968, Wendt's Propane is a major distributor of Propane and Oil to all of Western New York. Servicing residential, commercial, and agricultural customers and specializing in providing temporary heat on construction sites throughout the region. Wendt's Propane is open Monday through Friday 8 am-5 pm and on Saturdays from 8 am-noon. Wendt's Propane is conveniently located at 5910 Ward Road in Sanborn. They are on Facebook as well as online at www.wendtspropaneandoil.com
National Maintenance Contracting Corporation (NMCC) has been a long-standing supporter of racing at Ransomville Speedway. From welding and fabrication to industrial maintenance and general contracting, National Maintenance Contracting Corporation has done it all for over 20 years. From their location in Niagara Falls, NMCC delivers safe, high-quality services by a dedicated team of professionals at a fair and competitive price. To contact NMCC, call (716) 285-1583 or online at www.nmccnational.com.
Evergreen Lawn & Tree Service based in Lockport serves Niagara County and beyond. Evergreen Lawn & Tree Service provides professional lawn care and sprays for mosquitos. For more information, you can call Al Jancef of Evergreen Lawn & Tree Service at (716) 433-4874.
Lawns Unlimited has been a longtime supporter of Ransomville Speedway. Based in Newfane, Lawns Unlimited is your local choice for landscaping and more. Give them a call at (716) 778-8993 to see what they can do for you and your lawn today.
Hebeler Sales & Service in Lockport, NY, is proud to offer new & pre-owned motorcycle, ATV, UTV, PWC, and snowmobile sales, service, parts, and financing. Hebeler's has grown from a specialty shop to one of the largest multi-line dealers in the area. Hebeler Sales & Service is currently located at 6466 Main Road in Lockport and can be reached by phone at (716) 625-8744, on Facebook and Twitter by searching Hebeler Sales, and online at www.hebelers.com
Pit gates will open at 3:00 pm with grandstands opening at 5:00 pm and racing will begin at 7:15 pm. Grandstand admission is $30 for adults, $25 for seniors (60 +) and students (12-17), and kids 11 and under are admitted FREE. Fans can catch the entire racing program Wednesday night on DIRTVision.
Thursday, August 25 will be week 15 of the SANY New York/Burris Racing Go-Karts taking to the Little R in one of the final points nights of the 2022 season. As always, FREE grandstand admission to see the action at the Little R. Green flag will fly at 7 pm Thursday night.
After the Summer Nationals, the Versus Monster Trucks will take center stage on Saturday, August 27. The Monster Truck show will begin at 7 pm with the gates opening at 5 pm. Krazy Train, Plane Krazy, Bad News Travels Fast, Crushstation, and Lumberjack will take to the track and there will also be quad racing. Tickets are available by going to www.ransomvillespeedway.com
---
Article Credit: Steven Petty
Submitted By: Steven Petty
Back to News