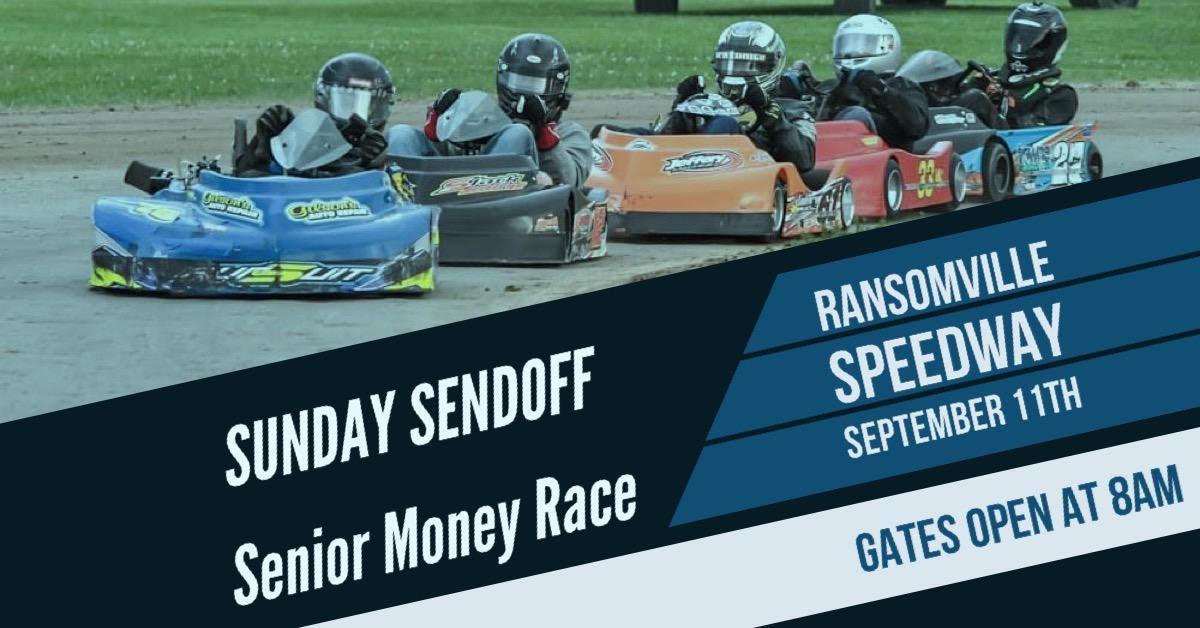 8/31/2022
Ransomville Speedway
---
Final Points for Go Karts Thursday 9/1; Banquet and Racing September 11
RANSOMVILLE, NY (August 31, 2022) This Thursday, September 1, will be the final points night of the season for the SANY New York/Burris Racing go-kart program at the Little R. There will be NO racing on Thursday, September 8, and the go-kart banquet will take place following racing on Sunday, September 11.
The final points night of the season will take place on Thursday, September 1 with gates opening at 5 pm, and racing will begin at 7 pm. As always, FREE grandstand admission and the concession stand will be open. Two drops will be deducted before Thursday's 9/1 final points night. If 9/1 is rained out, points will be final as of August 25, 2022, with two drops.
With September 1 being the final points night, there will be NO RACING on Thursday, September 8. Racing will take place on Sunday, September 11 with an SR Money Race paying $500 to win highlighting the show. September 11 is a FUN race and will also serve as Moving Up Day.
The Banquet will take place on Sunday, September 11 following the racing program. It will take place at the track, with Chiavetta's catering the meal. There will be a tent set up on the grounds for the banquet. Tickets will be $20 for non-drivers, and FREE for driver members.
On September 11, gates will open at 8 am, hot laps at 10:00 am, with racing to follow. There will be 1 heat for the JR classes, and 2 heats for SR Money (Draw for 1st heat, invert for heat 2). There will be a Mulligan Draw, in which for $5, drivers get 1 extra draw. If you don't like your first draw number, you MUST take the second. There will also be an Adult Fun Class (#375 weight any kart that can pass tech, any engine, any tire). Rules for the SR money class is that it must make weight (375). JR 3, JR 2, JR 1, and Novice will also be on the card.
Running order heats:
Novice
SR money
JR 1
Adult fun class
JR 2
JR 3
SR money
Running order feature :
SR money B-main
Novice
JR 1
Adult fun class
JR 2
JR 3
SR money
SR MONEY PAYOUTS
1-500
2-200
3-100
4-75
5-50
6-40
7-35
8-25
9-18th $20
18 kart max field for money race
$50 to win b main
More information can be seen on the Ransomville Speedway social media pages, and online at www.ransomvillespeedway.com
---
Article Credit: Steven Petty
Submitted By: Steven Petty
Back to News