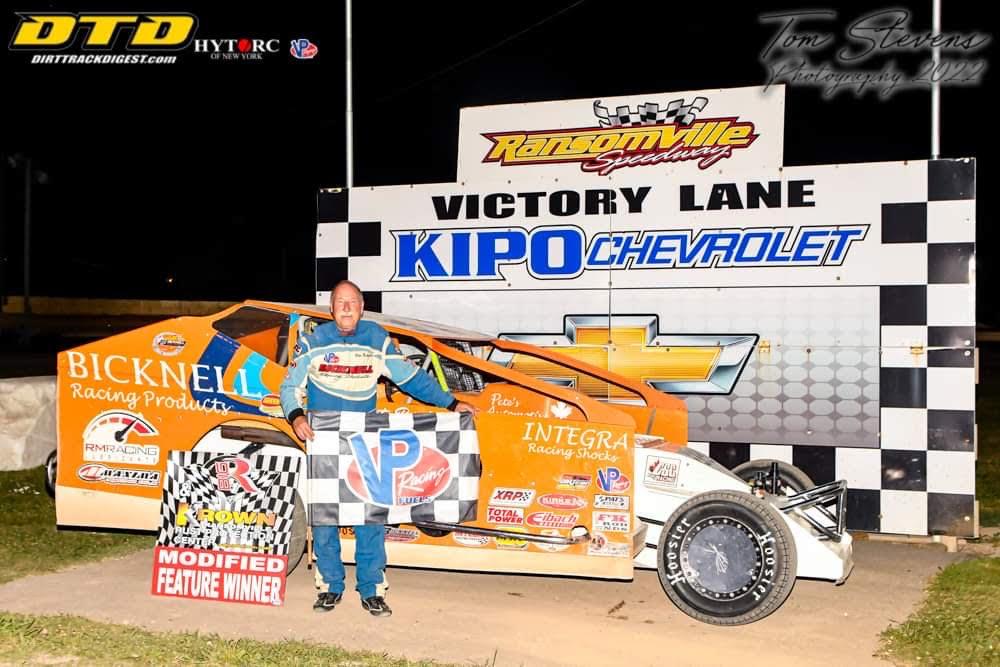 8/19/2022
Ransomville Speedway
---
Bicknell, Wagner, Zimmerman, Paul, and Castile Strike Up Victories at Ransomville
RANSOMVILLE, NY (August 19, 2022) "Mr. Small Block" Pete Bicknell from St. Catharines, Ontario won his second Krown Undercoating Modified feature of the season at the Ransomville Speedway as Telco Construction, Buffalo Fuel Corp, and Firth Jewelers presented the racing action on Friday night. Derek Wagner from Middleport, NY earned his fifth Investors Service Sportsman feature of the season. John Zimmerman from Varysburg, NY won his second KiPo Motors Street Stock feature of the season. Ian Paul from Wilson, NY won his first Sunflowers of Sanborn Mini Stock feature of his career. Abby Castile from Ransomville, NY won her first career Kevin's Carpet Cleaning Novice Sportsman triumph.
Pete Bicknell and Scott Kerwin brought the Krown Undercoating Modifieds to green for their 30-lap feature, with Bicknell showing the way. Steve Lewis Jr raced in third as Chad Brachmann would take over fourth from Allan Wills as Greg Martin raced on in fifth place. Kerwin would reel in Bicknell and the two veterans would battle for the lead. Brachmann would take third place away on lap 10 and on lap 16, would catch Kerwin and Bicknell. Brachmann would catch the wall in turn two, allowing Mat Williamson to catch and pass Brachmann on lap 20. Williamson and Kerwin would catch Kerwin for second place with seven laps remaining. Williamson would take the second position away, but it would be Bicknell racing to his second win of the season.
Greenley George and Jessica Kriegisch were on the front row for the Investors Service Sportsman feature, with Kriegisch showing the way. Noah Walker would take second away as Derek Wagner, Brett Senek raced behind. Derek Wagner would take the lead away on lap seven, and Senek would take over second on lap nine. Cody McPherson would take fourth away on lap ten, as Wagner, Senek, and Walker raced in the top three. McPherson and Walker battled for third for several laps as Wagner started to open up his lead. Wagner pulled away from the field to earn his fifth win of the season.
Simon Bissell and Pete Stefanski shared the front row for the KiPo Motors Street Stock feature, with Bissell showing the way early on. Brandon Sherwood would take over second from Stefanski. Joey Zimmerman would hit the turn four wall on lap two to bring out the race's first caution. On the restart, Sherwood would take over the lead with John Zimmerman taking over second place. Zimmerman would take over the lead on lap three. Josh Pangrazio would work his way to second place, as John Zimmerman would increase his lead. Sherwood would take over second from Pangrazio at the halfway mark. Pangrazio and Sherwood would battle for several laps for second, as Zimmerman would start to pull away. Pangrazio would regain the runner-up position on lap 16, and on the following lap, Pangrazio would tag the turn three wall to bring out the caution. The final three laps would see Zimmerman drive away to pick up the victory.
Ian Paul and Chris Leone were on the front row for the Sunflowers of Sanborn Mini Stocks feature, with Paul showing the way. Matt Hornquist would take second away from Leone on lap six, but Leone would regain the position just one lap later. The top six battled for much of the 15-lap affair. Paul would hang on for the win over Leone, with Cole Susice, Ryan Plante, Susice, and Curtis Rung. Paul would go on to score his first career feature win.
Abby Castile and Noah Mamo were on the front row in the Kevin's Carpet Cleaning Novice Sportsman feature, with Mamo showing the way. Mamo would suffer suspension damage on lap three, bringing out the caution. Abby Castile would be scored as the leader on the ensuing restart. She would pull away as Dillon Adamczak and Aden Harris battled for second place. Colby Adamczak would pull into the infield on lap four and would bring out the caution. Abby would hold off the field to score her first career feature win.
The Ransomville Speedway will be back in action on Wednesday, August 24th as Stirling Lubricants, National Maintenance Contracting Corp, Wendt's Propane, Lawns Unlimited, Evergreen Lawn & Tree Service, and Hebeler Sales & Service presents the 37th Summer Nationals for the Super DIRTcar Series Big Block Modifieds and the 2nd Mike Bonesky Memorial for the Sportsman Western and Central Region. The Summer Nationals will be shown on DIRTVision. Pits will open at 3 pm, grandstands open at 5 pm, and racing will start at 7:15 pm.
Then on Saturday, August 27, the Versus Monster Trucks will take center stage! Tickets are still available for the Monster Truck show by logging on to www.ransomvillespeedway.com
RACE RESULTS: Telco Construction, Buffalo Fuel Corp, Firth Jewelers Night
Krown Undercoating Modifieds: PETE BICKNELL, Mat Williamson, Chad Brachmann, Scott Kerwin, Ryan Susice, Steve Lewis Jr, Greg Martin, Jonathan Reid, Rick Richner, Jesse Cotriss, Allan Wills
Qualifying Heats: Chad Brachmann, Pete Bicknell
Investor's Service Sportsman: DEREK WAGNER, Brett Senek, Noah Walker, Cody McPherson, Nelson Mason, Kyle Richner, Jessica Kriegisch, Cameron Tuttle, Justin Sharp, Dylan Duhow, Greenley George, Justin McKay, AJ Custodi, Billy Bleich Jr, Ryan Barrett, Brian Harris, Dave DiPietro, Greg Mrzywka, Doug Walsh, Brett Martin, Tom Motzer
Qualifying Heats: Dylan Duhow, Cody McPherson, Noah Walker
KiPo Motors Street Stocks: JOHN ZIMMERMAN, Brandon Sherwood, Pete Stefanski, Tommy Bowen, Ken Camidge, Chuck Cala, Josh Pangrazio, Simon Bissell, Gary Camidge, Randy Zimmerman, Joey Zimmerman
Did Not Start: Josh Shumate, Mike Fellows, Mike Childrose, Jeff Sonnenberg
Qualifying Heats: Simon Bissell, Brandon Sherwood
Sunflowers of Sanborn Mini Stocks: IAN PAUL, Chris Leone, Cole Susice, Ryan Plante, Curtis Rung, Matt Hornquist, Dave Dussault, Brian Melcher, Jeffrey Wynes, Pete Nigro, Tony Kulesza, Cody Griffin, David Pangrazio
Did Not Start: Mike Becker
Qualifying Heats: Chris Leone, Ian Paul
Kevin's Carpet Cleaning Novice Sportsman: ABBY CASTILE, Dillon Adamczak, Aden Harris, Jim Forster, Casey Jonathan, John Livingston, Joe Mickey, Cameron Rowlands, Luke Blose, Colby Adamczak, Noah Mamo, Paul Marshall
Qualifying Heats: Noah Mamo, Jim Forster
---
Article Credit: Steven Petty
Submitted By: Steven Petty
Back to News