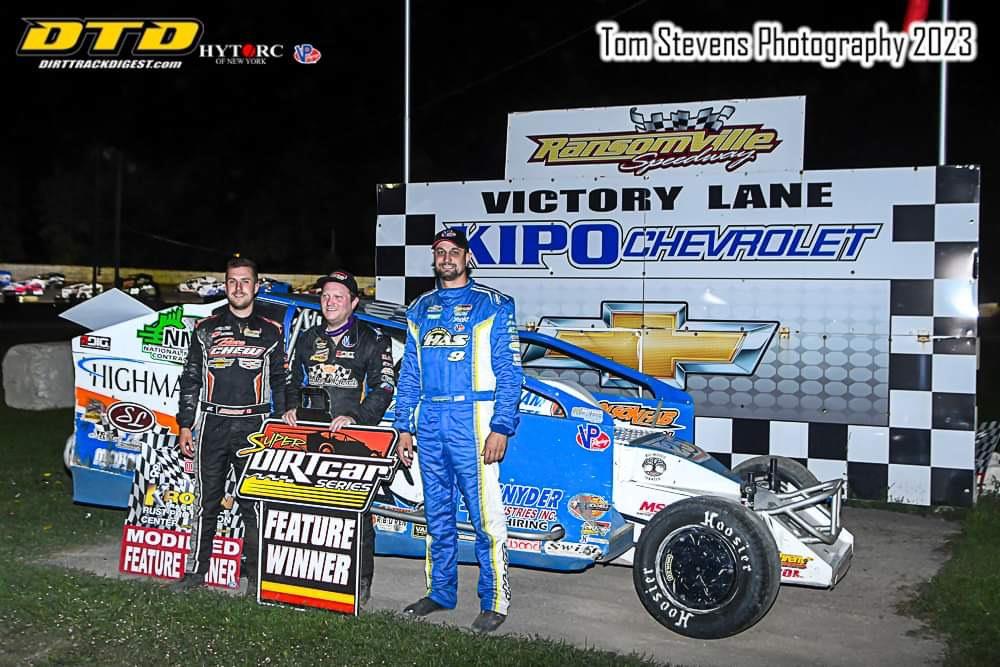 8/23/2023
Ransomville Speedway
---
Erick Rudolph Wins Ron Martin Memorial Summer Nationals; Brett Senek Claims Mike Bonesky Memorial
RANSOMVILLE, NY (August 22, 2023) Third-generation driver Erick Rudolph from Ransomville, NY won the 38th running of the Ron Martin Summer Nationals for the Super DIRTcar Series at the Ransomville Speedway on Tuesday night. Three-time Ransomville Speedway track champion Brett Senek from Ransomville, NY won the third running of the Mike Bonesky Memorial, which was also round three of the Sportsman Super DIRTcar Series Championship Trail.
The racing action was presented by Stirling Lubricants, Evergreen Tree Service, Wendt's Propane, National Maintenance Contracting Corp (NMCC), Hebeler's Sales & Service, and Krown Undercoating.
Jimmy Phelps and Erick Rudolph were on the front row for the 38th Ron Martin Memorial Summer Nationals, with Phelps with the lead ahead of Rudolph, Mat Sheppard, Adam Pierson, and Jack Lehner. Sheppard would pass Rudolph to move into second place on lap one and would set his sights on race leader Jimmy Phelps. Chad Brachmann was able to pass Lehner for fifth, as Mat Williamson worked his way into seventh place. Marcus Dinkins would spin in turn one to bring out the race's first caution on lap 11. The lap 14 restart would see Sheppard take over the lead from Phelps, ahead of Rudolph, Pierson, and Brachmann. Brachmann would try to battle with Pierson for fourth place, as Mike Mahaney, Jack Lehner, Mat Williamson, Tim Sears Jr, and Danny Johnson raced inside the top 10. Williamson would move back into seventh place after passing Lehner on lap 18. Williamson would take over sixth on lap 19 after passing Mahaney on the front straightaway. Andrew Smith would bring out the caution on lap 22 as he slowed on the front stretch. Erick Rudolph would pass Phelps to take over the runner-up position following the restart and would go after Sheppard for the lead. Larry Wight spun on the front straightaway after having contact with Pete Bicknell on lap 26. The lap 28 restart would see Sheppard ahead of Rudolph, as Brachmann went three wide with Pierson and Phelps to take over third place. Tim Sears Jr would battle with Mat Williamson for sixth place. Chad Brachmann's strong run would end on lap 32 as he came to a stop on the front straightaway with an issue in the rear end of his racecar. The lap 35 restart would see Sheppard jump back in the lead, but the yellow fever would continue as Alex Payne came to a stop. Also involved were Gary Lindberg and Dalton Slack as their bumpers were locked together. The restart would see Sheppard, Rudolph, and Pierson pull away from the field, as Sears Jr would battle with Phelps for fourth place. Williamson would close in on both Phelps and Sears for fourth place at the halfway mark, as Sheppard continued to pull away from Rudolph. The leaders would encounter lap traffic on lap 44, with Rudolph starting to close in on Sheppard for the lead. Williamson would pass Phelps on lap 44 to take over fifth place. Sheppard and Rudolph battled for the lead while in lap traffic, with Sheppard being able to maintain the lead. Rudolph would go underneath Sheppard in turn three to take over the lead on lap 51. Darren Smith would bring out the caution on lap 53 with a flat right rear tire. The restart would see Rudolph and Sheppard take off ahead of the field. Williamson would take over fourth from Sears on lap 57, with Pierson racing in third place. Rudolph would encounter lap traffic on lap 64, as he continued to pull away from Sheppard. Williamson would catch Pierson for third place, with Williamson taking over the final spot on the podium on lap 73. Rudolph would go on to score his second Ron Martin Summer Nationals victory and second Super DIRTcar Series win of 2023. The win for Rudolph was his 35th career Modified win at Ransomville.
Dave DiPietro and Brett Senek brought the 30-car field to green for the Mike Bonesky Memorial with DiPietro ahead of the field. Senek would be able to take the lead away on lap two and would be dominant in the 30-lap event. During an early race caution, two Ransomville regulars would have issues as both Derek Wagner and Dave DiPietro would have issues with the rear end of the car, ending their night, which looked promising for DiPietro after winning his qualifying event and redrawing on the pole for the main event. The restart would move Zach Sobotka to the front row with Senek, and Senek would use his Ransomville track knowledge to his advantage and would begin to open his lead over the field. Drivers that were moving up through the field included Nelson Mason, Cody McPherson, and Jim Harbison. Both Mason and McPherson have visited Ransomville victory lane in 2023, and Jim Harbison is the current Ransomville's Hy-Tech Concrete DIRTcar Sportsman points leader. Those three cars were working their way through the field, as was Tyler Corcoran, who started 23rd on the grid. Both Mason and McPherson would finish up in the top five at race's end, with Harbison and Corcoran finishing the race inside the top 10. A couple of mid-race cautions would bunch the field up, but it was Senek out front, going on to score his second consecutive win in the Mike Bonesky Memorial. Sobotka would settle for second, with Nelson Mason rounding out the podium finishers. Andrew Buff, who won the first two DIRTcar Sportsman Championship trail races, finished in fourth place, while reigning Mr. DIRT titlist Cody McPherson finishing in fifth.
Ransomville Speedway is back in action on Saturday, August 26 as the Versus Monster Trucks will be back at the Big R for an exciting event. Tickets are still available by clicking on the ticket link at ransomvillespeedway.com Showtime will be at 7pm, with gates opening at 5pm. VIP Track Pass will take place from 5-6:30pm. This event will take place RAIN OR SHINE. Event talent and programming are subject to change without notice. Exclusive tour merchandise and the famous Ransomville Speedway concession stand will be available.
Ransomville Speedway returns to racing with a doubleheader, beginning with the SANY New York/Burris Racing go kart program at the Little R on Thursday, August 31, and then on Friday, September 1, season championship night for the 358 Modifieds, Sportsman, and Street Stocks, plus Novice Sportsman, 4 Cylinders, and the DNA Towing Fall Harvest Demolition Derby. Rules for the demo derby can be found on www.ransomvillespeedway.com
RACE RESULTS – RON MARTIN SUMMER NATIONALS/MIKE BONESKY MEMORIAL
Super DIRTcar Series Big Block Modifieds: ERICK RUDOLPH, Matt Sheppard, Mat Williamson, Adam Pierson, Tim Sears Jr, Mike Mahaney, Gary Lindberg, Jimmy Phelps, Felix Roy, Danny Johnson, Pete Bicknell, Chris Hile, Steve Bernard, Jack Lehner, Dalton Slack, Max McLaughlin, Darren Smith, CG Morey, Larry Wight, Brad Rouse, Marcus Dinkins, Ricky Newton, Alex Payne, Noah Walker, Chad Brachmann, Andrew Smith, John Smith
Did Not Start: Allan Wills
Qualifying Heats: Jack Lehner, Mat Williamson, Adam Pierson
Fast Time: Mat Williamson (17.006 seconds)
Sportsman Super DIRTcar Series: BRETT SENEK, Zach Sobotka, Nelson Mason, Andrew Buff, Cody McPherson, Jim Harbison, Kyle Richner, Nick Root, Tyler Corcoran, AJ Custodi, Tyler Stevenson, Cameron Tuttle, Adam Leslie, Jessica Power, Taylor Doxtater, Jessica Kriegisch, Justin McKay, Mitch Dumont, Mike Fowler, Kearra Backus, Jordan Moden, Larry Vick, Noah Mamo, Nathan Peattie, Timmy Catalano, Colby Adamczak, Justin Liechti, Kasey Coffey, Dave DiPietro, Derek Wagner
Failed to Qualify: Brett Martin, Abby Castile, Tyler Moore, Doug Walsh, Dave Just
Qualifying Heats: Andrew Buff, Cameron Tuttle, Brett Senek, Dave DiPietro
Last Chance Showdowns: Mitch Dumont, Adam Leslie
---
Article Credit: Steven Petty
Submitted By: Steven Petty
Article Media
Back to News