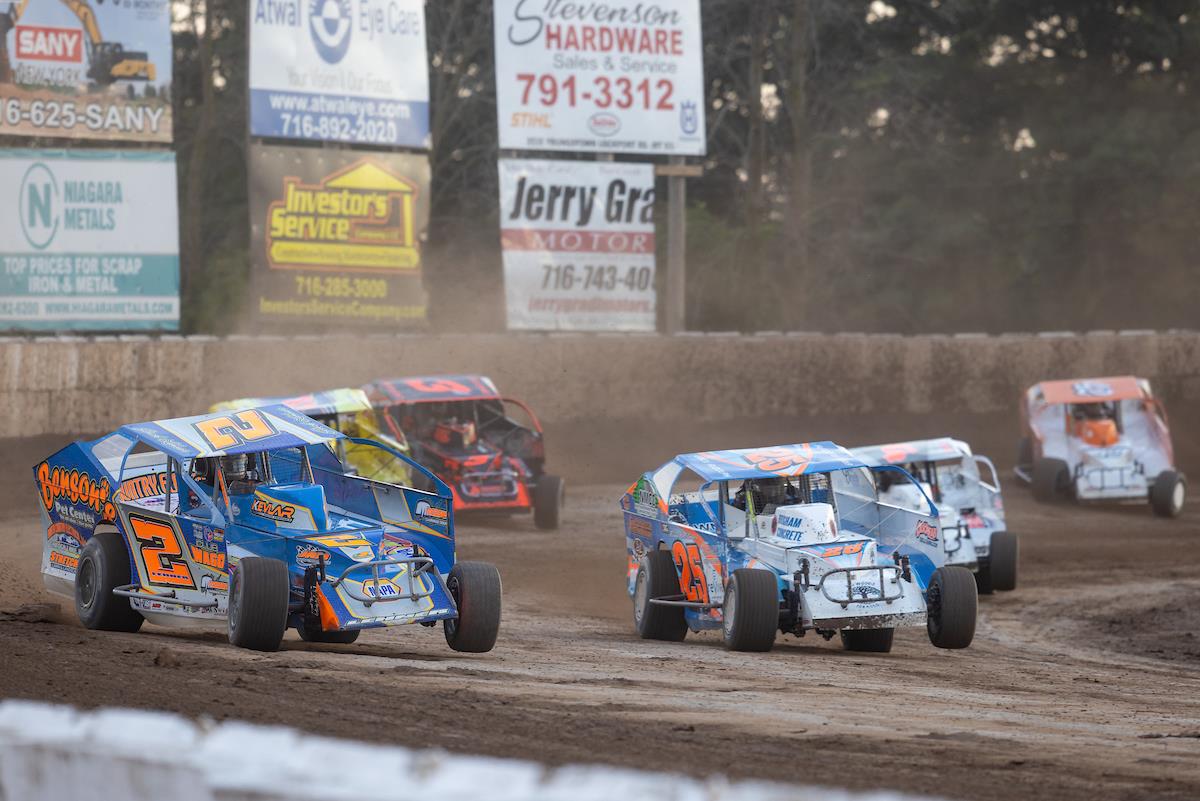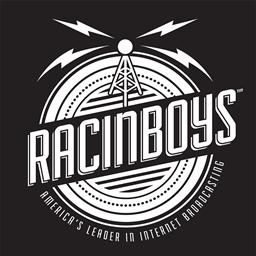 ---
Tight points battles, local stars lead Super DIRTcar Series back to Ransomville Speedway
By Michelina Friss, Super DIRTcar Series PR (Ransomville, NY) -- It will be the only Series stop at the 1/2-mile Ransomville, NY track this season, paying out $7,500 to the victor of the 75-lap Summer Nationals Feature.
With only four races remaining in the championship season, and third through fifth place separated by only 14 points, the drivers will be ready to battle every step of the way.
PHOTO CREDIT: Quentin Young
If you can't make it to the track, you can watch all the action live on DIRTVision – either online or by downloading the DIRTVision App.
Here are the top storylines to follow…
HOME SWEET HOME: Mat Williamson will be in familiar territory this week when the Series stars hit the track at Ransomville Speedway. The defending DIRTcar 358 Modified track champion and current track points leader will be a heavy favorite to win.
The Western New York track was the site of his sole championship season win last August, and his first at the track with the Series. He'll look to use his track familiarity to triumph once more and send himself to Victory Lane.
DRIVE FOR 10: Fresh off his second consecutive SummerFAST title win on Aug. 16 at Land of Legends Raceway, nine-time and defending Series champion Matt Sheppard remains the driver to beat. He enters the Ransomville matchup with a 64-point cushion over second place Mat Williamson and will look to extend that with a top-notch run.
A two-time winner at the track, the Waterloo, NY driver will use his notes from previous visits to make it third time he steps into Victory Lane.
UP FOR GRABS: Entering the Summer Nationals at Ransomville, third through sixth in Series points are separated by a mere 15 points.
Jimmy Phelps (3rd, 1710 points): Through consistency, Jimmy Phelps has found himself third in the championship standings. And he'll need to rely on that consistency with several of the Series' rising stars are on his heels looking to steal it.
Phelps, of Baldwinsville, NY, enters the Summer Nationals off finishes of seventh and 11th. In his last two Series starts at the 1/2-mile track, Phelps has finished 10th and 13th. He'll look for his first Series win at the track and first of the season.
Mike Mahaney (4th, 1704 points): Mike Mahaney had a successful Canadian swing, including his first Series win outside of Albany-Saratoga Speedway on the second night at Autodrome Drummond, propelling him into the top five in points.
After another high caliber performance on Aug. 16 at Land of Legends, he comes into Ransomville Speedway six points behind third place Jimmy Phelps. He finished seventh during his last visit to Ransomville with the Series in 2017 but will aim to contend for his second Series win this season.
Tim Sears, Jr. (5th, 1696 points): Tim Sears Jr., of Central Square, NY, scored his second top-five finish of the season at Brewerton Speedway during the opening night of SummerFAST, finishing third. It extended his string to three top 10 finishes in a row before a 20th-place run at Land of Legends hindered his momentum.
Sitting only eight points behind Mahaney, he'll be poised to start a new top 10 streak, but hopefully with his first Series win. In two starts at Ransomville with the Series, his best finish is 15th.
Chris Hile (6th, 1695 points): 2021 Rookie of the Year Chris Hile comes into the Ransomville matchup in sixth place, anchored by four top-five finishes and seven top-10s. The matchup will be a decisive one for the Oswego, NY resident as he is one point behind fifth-place Tim Sears Jr.Hile will have his work cut out for him as he finished 21st during his first and only visit to the track during the 2021 season.
LOCAL TALENT: Erick Rudolph, of Ransomville, NY, returns to the Super DIRTcar Series at Ransomville, looking for another win this season. He won the opening night at Autodrome Drummond in August, claiming his ninth Series win, behind the wheel of the #3RS.
The Ransomville native will try to strike gold again in his home territory, where he's already won multiple track victories and a track championship. He's also won with the DIRTcar 358 Modified Series at the track in 2016. His last two visits to Ransomville with the Super DIRTcar Series resulted in fifth-place finishes.
Stat Glance
Track Facts
Ransomville Speedway
Configuration: 3/8 mile
Website: www.ransomvillespeedway.com
AROUND THE TURN: The Super DIRTcar Series will travel to Lebanon Valley Speedway to compete in the 100-lap, $15,500-to-win, Mr. DIRT Track USA on Saturday, Sept. 2.
2023 FEATURE WINS:
1-Mat Williamson-6
2-Matt Sheppard-3
-Tim Fuller-2
4-Max McLaughlin-1
5-Chris Hile-1
-Anthony Perrego-1
-Erick Rudolph-1
-Mike Mahaney-1
2023 HEAT WINS:
1-Matt Sheppard-10
2-Peter Britten-6
3-Jimmy Phelps-4
-Mat Williamson-4
-Mike Mahaney-4
6-Mathieu Desjardins-2
-Jack Lehner-2
-Erick Rudolph-2
-Rick Laubach-2
-Darren Smith-2
-Chris Hile-2
-Tim Fuller-2
-Tim Sears Jr.-2
14-Stewart Friesen-1
-Justin Stone-1
-HJ Bunting-1
-Matthew Stangle-1
-Billy Decker-1
-Larry Wight-1
-Brett Hearn-1
-Dan Creeden-1
-Anthony Perrego-1
-Marc Johnson-1
-Andy Bachetti-1
-Ronnie Johnson-1
-Felix Roy-1
-Jordan McCreadie-1
-Max McLaughlin-1
-Steve Bernard-1
-Francois Bernier-1
-Todd Root-1
-Ronnie Davis III-1
2023 BILLY WHITTAKER CARS FAST TIME AWARD
1-Darren Smith-3
2-Mat Williamson-3
-Matt Sheppard-3
4-Marc Johnson-2
5-Jack Lehner-1
-Mathieu Desjardins-1
-Max McLaughlin-1
-Jimmy Phelps-1
-Steve Bernier-1
2023 LAPS LED
1-Matt Sheppard-241
2-Mat Williamson-140
3-Tim Fuller-95
4-Anthony Perrego-77
5-Darren Smith-59
6-Stewart Friesen-56
7-Francois Bernier -46
8-Perrego-39
9-Mike Mahaney-38
10-Chris Hile– 32
-Larry Wight-32
-Sears Jr.-32
13-Max McLaughlin-48
14-Demetrios Drellos-29
-Erick Rudolph-29
16-Jack Lehner-24
-Rick Laubach-24
18-Peter Britten-22
-Danny Johnson-20
20-Felix Roy 13
21-Brett Hearn-11
22-David Hebert-10
23-Lehner-5
2023 Super DIRTcar Series Schedule & Winners
#/Day, Date/Track/Location/Winner (Total Wins)
Wednesday, Feb. 15 / Volusia Speedway Park / Barberville, FL / Max McLaughlin (1)
Thursday, Feb. 16 / Volusia Speedway Park / Barberville, FL / Mat Williamson (1)
Saturday, Feb. 18 / Volusia Speedway Park / Barberville, FL / Mat Williamson (2)
Sunday, April 23/Bridgeport Motorsports Park/ Swedesboro, NJ/ Mat Williamson (3)
Sunday, May 28/ Weedsport Speedway/ Weedsport, NY/ Mat Williamson (4)
Monday, May 29/ Lebanon Valley Speedway/ West Lebanon, NY/ Matt Sheppard (1)
Tuesday, June 13/Albany-Saratoga Speedway/ Malta, New York/ Chris Hile (1)
Monday, July 3/ Orange County Fair Speedway/ Middletown, NY/ Matt Sheppard (2)
Tuesday, July 11/ Big Diamond Speedway/Pottsville, PA/ Anthony Perrego (1)
Sunday, July 16/ Weedsport Speedway/ Weedsport, NY/ Mat Williamson (5)
Wednesday, July 19/ Land of Legends Raceway/ Canandaigua, NY/ Tim Fuller (1)
Monday, July 31/ Autodrome Drummond/ Drummondville, QC/ Erick Rudolph (1)
Tuesday, August 1/Autodrome Drummond/ Drummondville, QC/ Mike Mahaney (1)
Wednesday, August 2/ Brockville-Ontario Speedway/ Brockville, ON/ Tim Fuller (2)
Monday, August 14/ Brewerton Speedway/ Brewerton, NY/Mat Williamson (6)
Wednesday, August 16/ Land of Legends Raceway/ Canandaigua, NY/ Matt Sheppard (3)
---
Submitted By: Kirk Elliott
Back to News