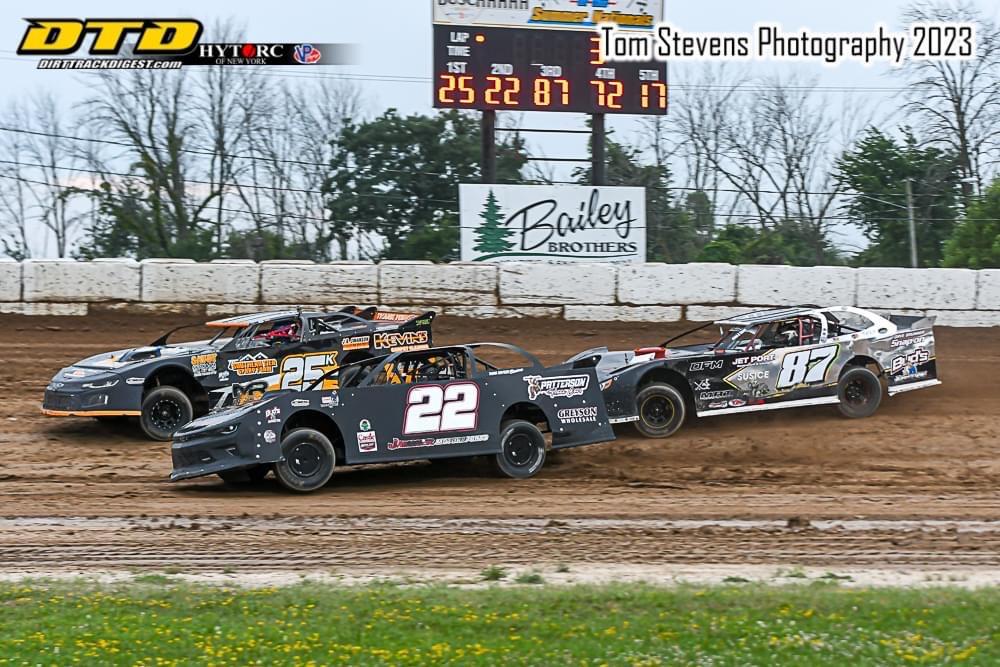 8/7/2023
Ransomville Speedway
---
John Susice Memorial and Little R Go-Kart Exhibition This Friday Night
RANSOMVILLE, NY (August 7, 2023) This coming Friday night, Ransomville Speedway will be honoring and remembering John Susice with the John Susice Memorial for the KiPo Motors Street Stocks. A full Ransomville racing program will also be presented as well as the Little R go-kart exhibition. Modern Disposal and Shelby Crushed Stone will present the racing action.
The John Susice Memorial pays tribute to the former Street Stock supporter, mechanic, and engine builder that passed away in February 2017. He was also the uncle of former Modified track champion, Ryan Susice, and grandfather to Austin and Cole Susice. The John Susice Memorial will pay $700 to win, with $450 for second, $300 for third, $280 for fourth, and $270 for fifth. Tenth place will pay $170. The race will also have a lap sponsorship program and other contingency awards that will be spread out throughout the field. A full list of lap sponsors and purse structure can be found on www.ransomvillespeedway.com
Past winners include Rob Murray (2017), Cory Sawyer (2018), Dave Bailey (2019), Jaren Israel (2021), and Glenn Whritenour (2022).
During intermission, the future stars of racing will take centerstage with the Little R Go-Kart Exhibition. The karting program continues to be a stepping stone for the Friday night racing program, and the karts will be on display in the concourse for all to see.
The KiPo Motors Street Stocks will be joined by the Krown Undercoating Modifieds, Hy-Tech Concrete Sportsman, Sunflowers of Sanborn Mini Stocks, and the Kevin's Carpet Cleaning Novice Sportsman. Pit Gates on Friday will open at 5pm, grandstands open at 6pm, and racing will get underway at 7:15pm. For those unable to attend in person, catch the action live on Dirt Track Digest TV.
In 1964, Steve Washuta incorporated Modern Disposal Services as a way to expand his seasonal paving company into a business that could provide a steady source of income for his family. As the region's industrial base grew, Mr. Washuta's dedication and strong work ethic helped his new business develop from a humble two-truck operation in Western New York into the 20th largest waste removal company in the United States. Today, Modern is still a privately owned waste removal company. We employ over 500 hundred people in Western New York, as well as Southern Ontario, Canada. Modern is committed to the most innovative and responsible methods of materials management and recycling. It's simple – we accept nothing less. As your local waste removal company, we take that responsibility seriously. For more information, log online to www.moderncorporation.com
Shelby Crushed Stone is located on Blair Road in Medina, NY. Shelby Crushed Stone is a local crushed stone, sand and gravel, and hot mix asphalt supplier. Serving Orleans, Niagara, and Genesee Counties, Shelby Crushed Stone produces a wide array of high-quality crushed limestone products. For more information, visit www.shelbystone.com
---
Article Credit: Steven Petty
Submitted By: Steven Petty
Back to News