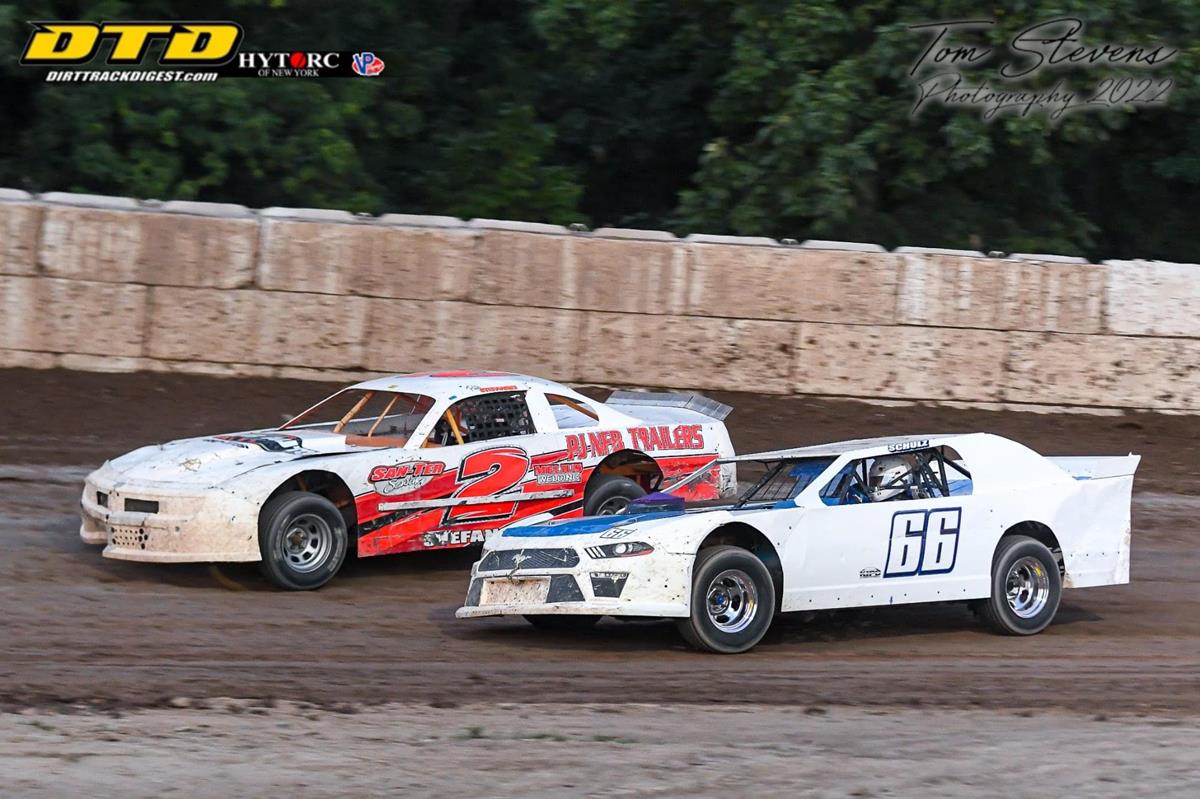 8/8/2022
Ransomville Speedway
---
5th Edition of John Susice Memorial to Take Place Friday Night
RANSOMVILLE, NY (August 8, 2022) The John Susice Memorial for the KiPo Motors Street Stocks will be taking center stage this coming Friday night, August 12. Vintage Cars will join the full racing card presented by Modern Disposal Services, Christopher Allen Construction, Buffalo Auto Auction, JW Swanson, and the FOAR Score Fan Club.
The John Susice Memorial pays tribute to the former Street Stock supporter, mechanic, and engine builder that passed away in February 2017. He was also the uncle of former Modified track champion, Ryan Susice, and grandfather to Austin and Cole Susice. The Susice family has helped to add money to the purse for Friday's race as well as contingency awards. The fifth edition of the John Susice Memorial will pay $750 to win, $500 for second, and $350 for third with a minimum of $100 to take the green flag. In addition to the purse, a lap contingency program with over $1,100 dollars will be distributed throughout the field. Bonus contingencies include qualifying heat race winners receiving $30 + a gift card from Bolands Beef and Brew, the $100 Bud's Apple Pie Hard Charger, the $50 Hard Luck Award from Susice Motorsports, $50 last car on the lead lap bonus from Loren Fish, and $100 gift certificate from ImageX Graphics will be handed out to a random finishing position. Harbison Farms is giving $50 to a random position bonus. The highest finishing 602 crate motor street stock will be receiving $100 from Camidge Racing. NSM Motorsports is sponsoring the worst heat race pill draw ($25) and the worst feature redraw ($25).
Past winners of the John Susice Memorial include Rob Murray (2017), Cory Sawyer (2018), Dave Bailey (2019), and Jaren Israel (2021).
The Krown Undercoating Modifieds, Investors Service Sportsman, Sunflowers of Sanborn Mini Stocks, Kevin's Carpet Cleaning Novice Sportsman, and Vintage Cars will all be on the racing card. Racing will get underway at 7:15 pm, with pit gates opening at 5:00 pm and grandstands opening at 6:00 pm. Adult grandstand admission is $18, with Seniors (60 +) and Youth (12-17) $15, and kids 11 and under are admitted FREE. Pit admission is $35 for members and $40 for non-members.
In 1964, Steve Washuta incorporated Modern Disposal Services as a way to expand his seasonal paving company into a business that could provide a steady source of income for his family. As the region's industrial base grew, Mr. Washuta's dedication and strong work ethic helped his new business develop from a humble two-truck operation in Western New York into the 20th largest waste removal company in the United States. Today, Modern is still a privately owned waste removal company. We employ over 500 hundred people in Western New York, as well as Southern Ontario, Canada. Modern is committed to the most innovative and responsible methods of materials management and recycling. It's simple – we accept nothing less. As your local waste removal company, we take that responsibility seriously. For more information, log online to www.moderncorporation.com
Christopher Allen Construction has been a longtime supporter of local racing and the Ransomville Speedway. From building construction to renovations, remodeling, roofing, and more call (716) 946-2528. Christopher Allen Construction is based in Wilson.
Since 1952, JW Swanson & Associates has provided HVAC Solutions with Integrity. J.W. Swanson & Associates is proud of its partnership with many manufacturers and their distributors as they distribute residential and small commercial HVAC equipment and supplies. Over the years, JW Swanson has done work at Cornell University, Rochester Institute of Technology (RIT), Oishei Children's Hospital, Key Bank Center and more are just a few projects that they have done over the years. JW Swanson has offices in Buffalo, Rochester, and Syracuse to serve you. For more information, log online to www.jwswanson.com
Buffalo Auto Auction has served Western New York since 1991. Now associated with Scott Perry Auctions, the two auction houses combined have been ranked among one of the premier muti-purpose auction companies in New York State. Perry Auctions and Buffalo Auto Auction are located at 5300 Lockport Road. For more information, you can visit www.buffaloautoauction.com
The Friends of Auto Racing (FOAR SCORE) Club is a not-for-profit organization that was formed in 1948 by race fans for the betterment of auto racing. The club tries to help the sport of auto racing in any way possible. Their purpose is for the betterment of automobile racing for fans, drivers, car owners, and promoters: to have better and safer racing and to increase the popularity of the sport. FOAR SCORE is the oldest active auto racing fan club in the US. The Friends of Auto Racing has donated thousands of dollars each year to anyone in the racing community who is sick or in need. For more information, visit www.foarscore.com
More information can be found by visiting the newly designed www.ransomvillespeedway.com and follow along on Facebook, Twitter, and Instagram.
---
Article Credit: Steven Petty
Submitted By: Steven Petty
Back to News