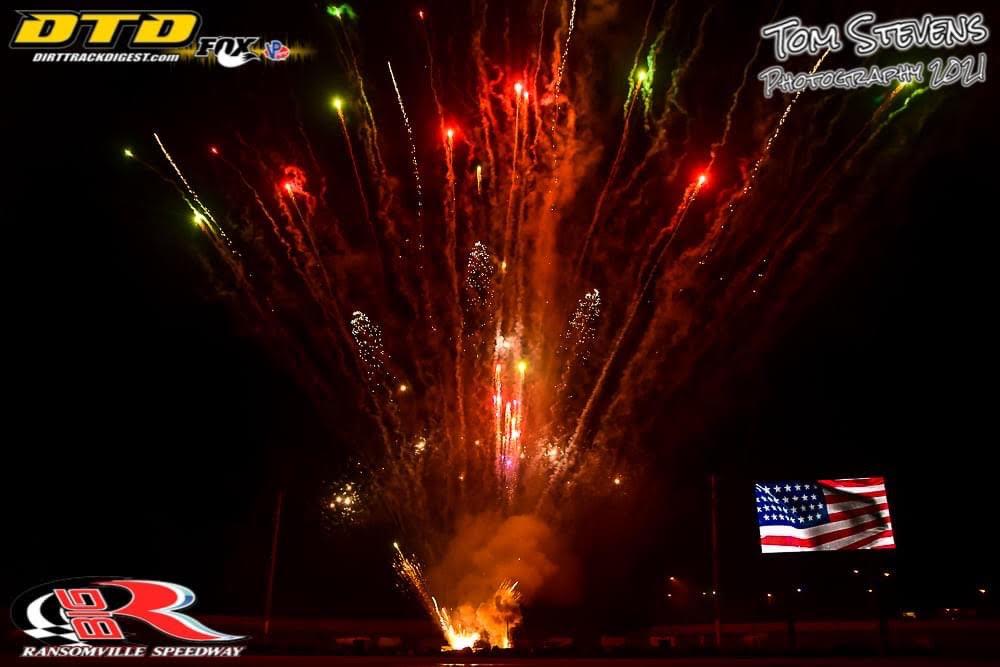 6/27/2022
Ransomville Speedway
---
Fireworks, Modified Twin 20s, and Chris Moore Sportsman Memorial This Coming Friday Night
RANSOMVILLE, NY (June 27, 2022) Fireworks, Modified twin 20s, and the Chris Moore Sportsman Memorial highlight the Holiday Weekend festivities this coming Friday night at the Ransomville Speedway. Parkhill Tree & Land Management, Niagara Hardwood Center, Hy-Tech Concrete, Sunset Bar & Grille, and JW Swanson & Associates will be presenting the program.
The Chris Moore Memorial for the Investor's Service DIRTcar Sportsman will be round four of the Sportsman Super DIRTcar Series Western Region. The top contenders on both sides of the border will converge on "The Big R" this coming Friday night. Brad Rouse won the first Western Region Canada race at Merrittville Speedway in May, while Phil Vigneri III won the first on U.S. soil at the Genesee Speedway in mid-June.
Chris Moore was a lifelong resident of Ransomville, NY, and was an all-around racing fan. On Friday nights, you could find Chris cheering for his friends and family with a box full of cheeseburgers and something to say to make you smile. Chris grew up at the Big R with his family watching his Great Uncle and longtime Ransomville racer, Russ Zimmerman, and Cousin "Rebel" Rick Gorhan go to battle on Friday nights. Great Grandfather, Albert Zimmerman, maintained machines and the grounds for the speedway from 1989-1996. Papa, Ron Zimmerman Sr., started working on his brother, Russ' #14 Bomber beginning in 1965 and later drove packing trucks for the speedway. Uncle "Smo" Al Zimmerman and Uncle RJ Zimmerman pit crewed for multi-time Ransomville Modified winner "The Franklin Flyer" Billy Decker while Decker was driving for Adam Ross in the famed Bug Chaser #91. With family ties to racing so deep It was a matter of time before he would find a fit for himself in his hometown at the "Big R". Beginning in the 2018 season, Chris would join R. Harris Motorsports helping his brothers, Tyler, and Orval Harris with the Sportsman car weekly at Ransomville, Genesee, and at Land of Legends Raceway. Unfortunately, Chris passed unexpectedly in July 2021. Chris loved racing at any level, and alongside his family, Ransomville Speedway would like to honor him in a way that would mean the most to him, having a memorial race in his honor for the Investor's Service Sportsman.
With more than 22 years of experience in the green industry, you can be assured you are in good hands with Parkhill Tree & Land Management. Founded in 2014, Parkhill Tree are experts in tree and plant healthcare, fertilization, and land management. For more information, call (716) 912-6894 or visit parkhilltree.com
Niagara Hardwood Center opened its doors in January of 2013. Owned and operated by the Marin family, we have over 20 years of experience in providing the greater Erie & Niagara County area with honest, quality hardwood flooring services. We specialize in all aspects of hardwood flooring including installation, repair, and refinishing. Niagara Hardwood Center is located at 2578 Niagara Falls Blvd in the Falls and can be reached by phone at (716) 955-0775 or online at www.niagarahardwoodcenter.com
Located in Newfane, N.Y., Hy-Tech Concrete has been in business since 1979 providing quality and professional services for all of your concrete needs. Their lists of services are endless as they specialize in all aspects of concrete projects from commercial, to residential and agricultural. Hy-Tech Concrete is located at 6136 First Street in Newfane and can be reached by phone at (716) 778-5499 or online at www.hytechconcrete.com.
Located on O'Connell Island in Wilson, The Sunset Bar and Grill is a casual restaurant specializing in seafood and American cuisine. From Private Parties to Corporate Events, Rehearsal Dinners, Weddings, and more, the Sunset is the perfect spot for weekend dinner. Open Friday through Sunday from 4-9, you can enjoy the sunsets on the Wilson Harbor. They are known for their outdoor patio and live music. You can find them on Facebook and Instagram and by phone at 716-751-6868.
Since 1952, JW Swanson & Associates has provided HVAC Solutions with Integrity. J.W. Swanson & Associates is proud of its partnership with many manufacturers and their distributors as they distribute residential and small commercial HVAC equipment and supplies. Over the years, JW Swanson has done work at Cornell University, Rochester Institute of Technology (RIT), Oishei Children's Hospital, Key Bank Center and more are just a few projects that they have done over the years. JW Swanson has offices in Buffalo, Rochester, and Syracuse to serve you. For more information, log online to www.jwswanson.com
The July 1st program will also feature Fireworks plus twin-20s for the Krown Undercoating Modifieds plus a full card of racing. Pit gates open at 5 pm, grandstands open at 6 pm, and racing will get underway at 7:15 pm. Adult general admission is $22, seniors (60+) and youth (12-17) $18.00, and kids 11 and under will be admitted free. Pit admission is $35 for members and $40 for non-members. More information can be found by visiting the newly-designed www.ransomvillespeedway.com
---
Article Credit: Steven Petty
Submitted By: Steven Petty
Back to News